Books by Mark H. Dunkelman
For a list of my books at Amazon.com, click here.


---

The Hardtack Regiment: An Illustrated History of the 154th Regiment, New York State Infantry Volunteers with Michael J. Winey. (East Brunswick, N.J.: Fairleigh Dickinson University Press, 1981).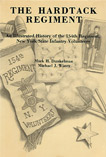 (Click on image to enlarge.)
The Hardtack Regiment traces the progress of the 154th New York Infantry Volunteers from the regiment's organization in 1862 in Cattaraugus and Chautauqua counties to the mustering out in 1865. During its service the 154th New York participated in some of the great campaigns and battles of the war. At Chancellorsville, the regiment's stand against "Stonewall" Jackson's famous attack made its first battle a disastrous and bloody one. At Gettysburg, a similar forlorn fight decimated the regiment further. But the remaining soldiers continued to fight and suffer in the subsequent campaigns for Chattanooga and Atlanta and participated in Gen. William T. Sherman's destructive march through Georgia and the Carolinas.
When the Hardtack Regiment disbanded after the close of the war, the veterans returned to their homes and farms in western New York, and the story of the 154th faded into individual memories. Around the turn of the century, an attempt was made but not completed to write and publish a history of the regiment. By the 1960s, when the present authors individually began to study it, the 154th was forgotten.
In this history the soldiers of the Hardtack Regiment, officers and privates, live and speak again through the several diaries and accounts and the hundreds of letters located by the authors during years of research. Much of this material was made available by descendants of members of the regiment; other portions came from institutions around the country.
The members of the Hardtack Regiment included two Medal of Honor winners, a brigadier general, and the sergeant who fell at Gettysburg and became for a time the country's most famous unknown soldier. A section of brief biographical sketches serves as in introduction to these and selected other soldiers. Also included in the book are 13 maps and 124 illustrations, many of them previously unpublished, of which 78 are portraits that accompany the biographical sketches.
"Exactly the sort of job that was done back in the '80s and '90s when various regimental survivors' associations would collect letters, diaries and so on in order to make regimental histories. It has an authentic ring." Bruce Catton
"A highly recommended book for those interested in small unit histories." Civil War Times Illustrated
"A welcome addition to the bookshelves of regimental history collectors and general Civil War students who enjoy a glimpse of the too-often anonymous men who marched, fought, and died in the War." Blue & Gray Magazine
"A worthy addition to the library of any collector of Civil War regimentals." Military Images
"The book is a gem." Buffalo Evening News.
---

Gettysburg's Unknown Soldier: The Life, Death, and Celebrity of Amos Humiston (Westport, Conn.: Praeger, 1999).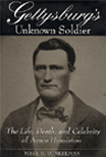 (Click on image to enlarge.)
He was found dead on the battlefield of Gettysburg, an unknown soldier with nothing to identify him but an ambrotype of his three children, clutched in his fingers. With the photograph as the single, sad clue to his identity, a publicity campaign to locate his family swept the North. Within a month, the bereaved widow and children were located in Portville, New York, and the devoted father was revealed to be Sergeant Amos Humiston of the 154th New York Volunteers. Using many previously untapped sources, this book tells the tale of nineteenth century war, sentiment, and popular culture in greater detail than ever before.
The Humiston story touched deep emotions in Civil War America, and inspired a flood of heartfelt prose, poetry, and song. Amid a vast outpouring of public sympathy, a charitable drive evolved to assist the bereft family. At the end of the war, the crusade was expanded to establish a home at Gettysburg for orphans of deceased soldiers. The first residents of the institution were Amos Humiston's widow Philinda and her three children: Franklin, Alice, and Frederick. In this extensive account, a full portrait emerges of Amos Humiston, the loving husband and father destined to be remembered for his death tableau, and his family, the widow and orphans who struggled for the rest of their lives with celebrity born of tragedy.
"The fate of Amos Humiston was one of the great human interest stories of Gettysburg. Killed on the first day of the battle, he was identified only by the photograph of his children cluthced in his hands as he died. The quest to learn his identity in 1863 struck a national nerve that helps us to understand the enormous impact of the battle of Gettysburg on the national psyche then and for the past 135 years. Mark Dunkelman has told Humiston's story with a verve and sensitivity that will leave no reader unmoved." James M. McPherson
"Of the multitude of human interest stories associated with the battle of Gettysburg, that of Amos Humiston has long been regarded as one of the most poignant. But of all the many times that Humiston's story has been recounted, it has never been told with the rich detail found in Mark Dunkelman's Gettysburg's Unknown Soldier. For the first time, the reader is introduced to Humiston the man. Dunkelman has woven together a compelling narrative that should fascinate all who are interested in the broader, human implications of the tragic events that occurred in Gettysburg in 1863." William A. Frassanito
"Mark Dunkelman's thorough research and facile writing has produced the definitive account of one of Gettysburg's best human interest stories." Harry W. Pfanz
"A very human tale that can be enjoyed by historians and casual readers alike. Dunkelman weaves an intimate biography around a larger picture of late 19th-century America. In doing so, he has produced a very readable book." America's Civil War
"Rarely does a book reveal the tragedy of war as does Gettysburg's Unknown Soldier. . . . Dunkelman's writing combines a skilled novelist's flair for words without sacrificing the historian's perspective. . . . This book can be enjoyed as a biography or as a cultural study. Either way, it is highly recommended." The Civil War News
"Dunkelman's well-researched and deeply felt narrative offers and effective and fascinating look at how the tragedy experienced by the Humiston family fit into Civil War-era assumptions about patriotism, fame, religious belief, and sentimental notions of sacrifice." Journal of Southern History.
"The book is extraordinarily interesting and deeply moving." Errol Morris
To read "Whose Father Was He?", Errol Morris's five-part New York Times essay based on the book, click here.

For information about the book, visit its page on the ABC-CLIO website.
---

Gettysburg's Unknown Soldier: The Life, Death, and Celebrity of Amos Humiston, reissued in paperback with a Foreword by Errol Morris and a New Introduction by the Author (Trumbull, CT: Gettysburg Publishing, 2020).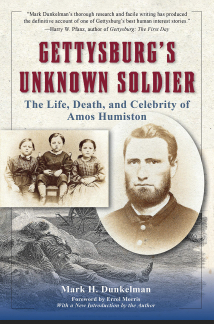 "Mark Dunkelman has written an extraordinary book about Amos Humiston, piecing together a story that takes us deep into the heart of what defines America. Mark Dunkelman is a remarkable Civil War historian, and an extraordinary detective." From the Foreword by Errol Morris.
For information about the book visit the Gettysburg Publishing website.

To hear me discuss the book with Nick Thony on the History Tavern Podcast, click here.
To hear me talk about my book Gettysburg's Unknown Soldier with host Gerry Prokopowicz on Civil War Talk Radio, click here.

Check out the Facebook page for the book here.

---

Brothers One and All: Esprit de Corps in a Civil War Regiment (Baton Rouge: Louisiana State University Press, 2004).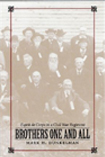 (Click on image to enlarge.)
During the Civil War, the regiment was the fundamental component of armies both North and South, its reliability and effectiveness crucial to military success. Soldiers' devotion to their regiment – their esprit de corps – encouraged unit cohesion and motivated the individual soldier to march into battle and endure the hardships of military life. Although historians have often remarked on the importance of esprit de corps within Civil War regiments, few have examined the phenomenon in depth.
In Brothers One and All, Mark H. Dunkelman identifies the characteristics of Civil War esprit de corps and charts its development from recruitment and combat to the end of the war and beyond through the experiences of a single regiment, the 154th New York Volunteer Infantry. Dunkelman offers a unique psychological portrait of a front line unit that fought with distinction at Chancellorsville, Gettysburg, Lookout Valley, Rocky Face Ridge, and other engagements. Drawing on three decades of research and more than a thousand wartime letters and two dozen diaries kept by members of the 154th, he traces the evolution of natural camaraderie among friends and neighbors into a more profound sense of pride, enthusiasm, and loyalty forged as much in the shared unpleasantness of day-to-day army life as in the terrifying ordeal of battle.
Brothers One and All reveals precisely how esprit de corps gave the men of the 154th reason to keep marching and fighting despite boredom, homesickness, illness, and the death of comrades. And while Dunkelman notes the limits of regimental loyalty in instances of cowardice, malingering, and desertion, he finds that most of the men shared an abiding concern for their regiment's reputation and honor. Even after war's end, a strong sense of esprit de corps survived among veterans, who for decades attended regimental reunions and contributed to war memorials.
With freshness and striking effect, Dunkelman has re-created the particular experiences of the 154th while offering universal insights into the nature of war and the bonds between soldiers.
"The wealth of soldiers' letters and diaries for the 154th New York that Mark Dunkelman has discovered enables him to get really close to these men and to understand what made them tick. This book offers one of the best analyses of morale and esprit de corps that exists in the vast array of Civil War literature." James M. McPherson
"Dunkelman makes superb use of a wealth of personal accounts by soldiers to give us an unusually rich, intimate portrait of one Union regiment. His analysis rings true, as does his devotion to the history of the 154th New York. This is the only book that looks deeply at the communal spirit which bound soldiers into a 'band of brothers,' and it is a marvelous contribution to our understanding of that spirit." Earl. J. Hess
"A marvelous book — well-researched, well-written, and wise. Dunkelman brings new depth to the study of the Union soldier." Reid Mitchell
"Few if anyone today knows or appreciates a Civil War regiment, its mystique and personnel better than Mark H. Dunkelman. A lifelong romance with the 154th New York Infantry combined with remarkable sleuthing skills has brought to light a treasure trove of soldier and family letters, and articles in local newspapers in the two-county area that the soldiers called home. Blessed with these resources, Dunkelman's Brothers One and All is more than just another unit history. His approach is novel and welcomed, as underscored in the subtitle Esprit de Corps in a Civil War Regiment. Drawing on a multiplicity of sources, Dunkelman in a thought-provoking narrative examines how the soldiers viewed themselves both as individuals and collectively during their evolution from civilians to members of an elite combat unit. As a World War II Marine, I see many parallels, as well as differences, in explaining the development, evolution and importance of unit esprit de corps. Esprit being vital to success in life, as well as war, Dunkelman's book will have a broad appeal to the general public, as well as the corporate and military world." Edwin C. Bearss
"In his impressively researched and well-written Brothers One and All, Dunkelman does something that too few regimental historians have done; namely, use his unit as a case study to seriously examine broader questions about the common soldier of the Civil War and the cultural dynamics that shaped his experience. This is a marvelously conceived and superbly executed study. Hopefully, it will gain the wide readership it deserves and inspire further studies of its kind." The Civil War News
"In Brothers Ones and All: Esprit de Corps in a Civil War Regiment, Dunkelman traces the spirit of one unit, the 154th Regiment, New York State Infantry Volunteers, and in the process writes one of the best and most revealing books on soldiering yet published. Written with zeal and compassion, Dunkelman's effort adds to our understanding of the common soldier, furthering the work of Bell Wiley, James McPherson and others. Brothers One and All should firmly establish the importance of esprit de corps to the Civil War regiment." Civil War Times
"Where all too often regimental histories digress into flag-waving pablum, Dunkelman pulls no punches, presenting a warts-and-all assessment of the unit to try to understand the motivations of the men who composed the regiment. His efforts are successful. While respected historians such as Joseph Glatthaar, Francis A. Lord, Reid Mitchell, Earl J. Hess ad Bell Irvin Wiley have previously approached the subject of esprit de corps, this is undoubtedly the most detailed treatment. It is an extremely well-crafted, well-written and well-researched book that offers new scholarship. It would make a worthy addition to any Civil War library." America's Civil War
"Brothers One and All joins the lengthening list of books about the common soldiers of the Civil War that all serious students of the Civil War must read. At the same time, the author's close analysis of regimental esprit makes the volume unique and of great interest to students of warfare in general. Dunkelman deserves great credit for this very considerable achievement." Journal of Illinois History
"This is a compelling account of esprit de corps in a single regiment. It offers a welcome perspective on the reasons that soldiers fought and died during the Civil War." The Journal of Southern History
"Without a doubt this book is one of the most absorbing and enlightening you will ever read concerning the Civil War." Military Images
"This study is a path-breaking work as well as a good read." The Historian
"Mark Dunkelman's research of the 154th New York Regiment is an extremely important resource for the student of nineteenth century military society and culture in the United States. Brothers One and All opens a window into the mind of the Civil War soldier, providing an understanding of how trust, morale, and common experience were created and maintained in a Civil War regiment, through the abundant use of soldiers' personal letters. This book exemplifies the strength and fragility of the bonds that hold a military unit together." On Point: The Journal of Army History
"Drawing from an impressive array of primary sources, including letters, diaries, and memoirs as well as contemporary newspapers and official reporting, Dunkelman highlights the critical role of the regiment as the basic building block in esprit de corps during the Civil War. More than just telling the story of the Hardtack Regiment, Dunkelman's Brothers One and All is a masterly account of how these men became comrades-in-arms." The Journal of American History
To hear me talk about my book Brothers One and All on Civil War Talk Radio, click here.

For information about the book, visit its page on the Louisiana State University Press Web site.
---
War's Relentless Hand: Twelve Tales of Civil War Soldiers (Baton Rouge: Louisiana State University Press, 2006).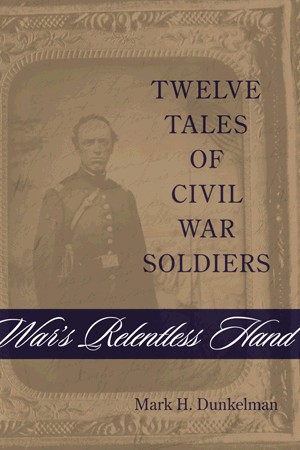 (Click on image to enlarge.)
A happy-go-lucky soldier falls at Gettysburg. An officer survives a hair-raising escape after capture at Gettysburg, only to die in the Atlanta campaign. A young volunteer retreats into insanity. Though they did most of the fighting and dying in the American Civil War, "ordinary" soldiers largely went unheralded in their day and have long since been forgotten. Mark H. Dunkelman retrieves twelve of these common soldiers from obscurity and presents intimate accounts of their harrowing, heartbreaking, and occasionally humorous experiences. Their stories, true to the last historical detail yet as dramatic as the most powerful fiction, put a human face on the terrible ordeal of a country at war with itself.
These were soldiers from the 154th New York Volunteer Infantry, a regiment that Dunkelman has studied for forty years. He weaves a complex and personal portrait of each man--portraits that reveal how, even for the common soldier, war was a cataclysmic event forever marking his life and the lives of those around him. Through a vast array of primary sources, Dunkelman reconstructs the lives and legacies of soldiers who died on the battlefield and others who later died of war-related injuries, some who were permanently disabled and others who saw their families undergo trauma.
A reluctant soldier is doomed by red tape. A veteran is crippled for life because of his brutal treatment as a prisoner of war. Father and son are killed at Chancellorsville. A dying private is immortalized by Walt Whitman. Separated by the war, a husband and wife agonize when their children contract a deadly disease. A veteran claiming he was blinded by campfire smoke is at the center of one of the largest pension scandals of the postwar era.
Recalling a lost world, War's Relentless Hand tells of the resilience, perseverance, and loyalty that distinguished these men, the families and communities that supported them, and the faith and character that sustained them. Though the full human cost and grief of the Civil War can never be calculated, deeply felt and carefully retold lives like these help convey its magnitude.
"Mark Dunkelman has done it again—produced another truly outstanding book that transcends the narrow confines of a single regiment or a handful of soldiers to speak eloquently of the meaning and impact of the Civil War in the lives of ordinary Americans. This is one of the best Civil War books I've ever read." Steven E. Woodworth
"Dunkelman's excellent storytelling and characterizations make this, his fourth book about the 154th, attractive to military buffs and general readers alike." Booklist
"The detail Dunkelman gives is amazing and the stories of these soldiers run the gamut from heart-rending to amusing while covering most of life's experiences in between. . . . Dunkelman writes well and the stories flow smoothly, holding the reader's attention. . . . Dunkelman has done a fine job of collecting the tales of 12 men who served and I recommend War's Relentless Hand for those readers interested in the common soldier of the Civil War." The Civil War News

"To be honest I was a little wary of this book. It does not have the analytical rigor of his regimental study [Brothers One and All], which is somewhat surprising for an academic press book. It will be interesting to see if reviewers harp on that alone. I say that because if they do dwell on that alone they would have missed something that I am still trying to put my finger on. Books on the common soldier are nothing new and the number and sophistication continues to increase with each passing year. That said, there is something attractive about a stripped down study of average soldiers without the analytical framework. Each chapter begins with a trip to a cemetery which the author narrates. At first I found it to be distracting but then I was reminded of a common practice in the Jewish tradition, which involves placing a stone on the grave being visited. It is both a sign of respect and a sign that someone was present. In a way Dunkelman's book functions along similar lines." Kevin Levin, in his blog Civil War Memory
"After reading War's Relentless Hand, the reader cannot but come away with the feeling that he knows these 12 men well, and is all the better for it." Military Images
"A valuable read for anyone interested in the life of the common soldier in the war." The New York Military Affairs Symposium Review
"Dunkelman's innovative approach . . . does far more than recount the wartime experiences these men shared. Instead, these tales encompass their transformations from civilian to soldier and back again (if they survived), and explores each man's relationships with their family and friends whom they relied upon for physical and emotional support. Such an approach humanizes the impersonal Civil War regiment and provides a more complete portrait of how Civil War service affected all aspects of American society. . . . Perhaps no regiment has a better champion than the 154th New York has in Dunkelman. Future historians would be wise to take note of his novel approach of giving a full accounting of . . . antebellum, wartime, and postwar experiences within a single regiment. We can better understand and personalize the conflict from this type of study and glean how the Civil War and its memory have shaped us as well." Civil War Book Review

"If other regimental historians got to know the men in their units as well as Dunkelman has his, none have so capably applied what they learned to the broader worlds of Civil War soldiering. With War's Relentless Hand, Dunkelman risks drifting from the sure path cut in broader-reaching regimental histories by narrowing his focus to a mere dozen of his familiar New Yorkers. Instead, his typically deft exploration of Civil War history from the bottom up illuminates the effect of the war on soldiers and their families and produces an entertaining addition to a valuable body of work. . . . Its content is lively, touching and timeless, and any readers who are drawn to the war's human side should seek it out." Civil War Times
"Forty years of Dunkelman's work on the regiment shines through an excellent narrative. . . . This book is an enjoyable read." Journal of Southern History
For information about the book, visit its page on the Louisiana State University Press Web site.
---
Marching with Sherman: Through Georgia and the Carolinas with the 154th New York (Louisiana State University Press, 2012).
Marching with Sherman: Through Georgia and the Carolinas with the 154th New York presents an innovative and provocative study of the most notorious campaigns of the Civil War—Union General William Tecumseh Sherman's devastating 1864 "March to the Sea" and the 1865 Carolinas Campaign. The book follows the 154th New York regiment through three states and chronicles 150 years, from the start of the campaigns to their impact today. Mark H. Dunkelman expands on the brief accounts of Sherman's Marches found in regimental histories with an in-depth look at how one northern unit participated in the campaigns and how they remembered them decades later. Dunkelman also includes the often-overlooked perspective of southerners—most of them women—who encountered the soldiers of the 154th New York. In examining the postwar reminiscences of those staunch Confederate daughters, Dunkelman identifies the myths and legends that have flourished in the South for more than a century. Marching with Sherman concludes with Dunkelman's own trip along the 154th New York's route through Dixie—echoing the accounts of previous travelers—and examining the memories of the marches that linger today.
"A labor of love and dedication, this is a detailed account of the 154th New York regiment's wartime exploits and an analytical look at the way Americans, North and South, have viewed William T. Sherman and his marches. A fascinating book which deserves a wide reading." John F. Marszalek
"A welcome new account of Sherman's march through Georgia and the Carolinas. Well researched and engagingly written." Mark Grimsley
"By systematically marrying known activities of the 154th New York to civilian accounts about the same places, the book conveys a better sense of specific Union activities and the resulting civilian experience than most accounts of Sherman's marches. This dual approach is a valuable contribution, allows ample reflection on the hard realities of Sherman's marches, and deserves an audience for trying to sort out fact and fiction on these matters." The Civil War News
"Dunkelman's achievement is to show in detail just how incommensurately northerners and southerners experienced, interpreted, and remembered the time Sherman came marching through, as well as how these differences in understanding and recollection have shifted by time and place . . . This is a path-breaking work in the study of Sherman's campaigns." The Civil War Monitor
"The inspiration for Dunkelman's book were the 'stories my father heard from his grandfather . . . that transported me to my great-grandfather's side.' It is a book, as Dunkelman portends in his introduction, of 'history and memory.' To obtain this mixture, Dunkelman set out to form 'a unique hybrid' by intertwining regimental histories, accounts of southerners in Sherman's path, studies of myths and legends of the marches, and reports of postwar travellers in Sherman's wake. As 'a matter of simple justice' he worked to include both northern and southern perspectives. He has met his mar with a refreshingly balanced, unobtrusive, and neutral collection of how the same event was viewed differently from a variety of perspectives." Civil War Book Review
"In this new addition to the literature on Union general William T. Sherman's 1864 march through Georgia and the Carolinas, Mark H. Dunkelman has both fulfilled one of his lifetime goals and produced a highly readable book that has ambitious aims. . . . Dunkelman is to be commended for his command of the literature. He is extremely well versed in the most up-to-date scholarship, and his integration of the historiography in no way interrupts the flow of his account. Dunkelman states that he found his southern audiences most receptive once he had convinced them that he intended to include southerners' side of the story. He has fulfilled that promise, and in so doing he has achieved his own, perhaps very personal, version of reunion." The Journal of Southern History
"Marching with Sherman's narrative precision, crisp prose, and competent research deserve plaudits, as does Dunkelman's attempt to expand the analytic possibilities of regimental history." The North Carolina Historical Review

"Dunkelman's scholarly effort is remarkable and thorough . . . The result is informative, engaging, and fresh . . . Making a notable contribution to the literature on historical memory, Dunkelman supports his evocative book with excellent maps, appropriate photographs, and a good index." Civil War History
To hear me talk about my book Marching with Sherman on Civil War Talk Radio, click here.

For information about the book, visit its page on the Louisiana State University Press Web site.
---
Patrick Henry Jones: Irish American, Civil War General, and Gilded Age Politician (Baton Rouge: Louisiana State University Press, 2015).


This is the first full-length biography of Patrick Henry Jones (1830-1900). A native of Ireland, Jones overcame the xenophobia that confronted immigrants in mid-nineteenth century America to attain a level of prominence equaled by few of his peers. His outstanding service in the Union army during the Civil War caused him to be promoted in successive steps from second lieutenant to brigadier general, one of only twelve native Irishmen to reach that rank in the Federal forces. The war over, his reputation as a military hero enabled him to undertake a career in politics. Serving in both elective and appointive offices, he became one of the best-known Irish-American politicians of his era. From the humblest of roots, Jones rose to military and political heights on the basis of his abilities and accomplishments, aided by his patrons Reuben E. Fenton—congressman, governor, and senator—and Horace Greeley, the famous editor.

Having climbed to a lofty place in American life, Jones encountered perils in the political upheavals and corruptions and scandals of the Gilded Age. Appointed to an important office by President Ulysses S. Grant, Jones was faced with a dilemma when his mentor Greeley ran against Grant in the 1872 election. Meanwhile, malfeasance by subordinates tarnished Jones's reputation and ruined him financially. Then he was laid low by a peculiar involvement in one of the most sensational crimes of the era, which sullied his name and left him a shadow of his former self.

Jones was one of the most famous Irish Americans of his day, but until now he has largely been forgotten. This biography resurrects Patrick Henry Jones's memory and restores him to his rightful place as an ethnic military hero and a politician of influence. In so doing it contributes new insights in the fields of ethnic studies, Civil War history, New York City postwar politics, the Grant Administration, and Gilded Age chicanery.
"Mark H. Dunkelman's Patrick Henry Jones: Irish American, Civil War General, and Gilded Age Politician is an important addition to the body of work on Irish Americans in the Civil War era. Outside of the most celebrated figures, biographies of significant Irish-born leaders who participated in the conflict are relatively sparse, making this study all the more valuable. The author expertly charts the rise and fall of Jones from his native Ireland through his life in America, as he sought to steer a path through the challenges, opportunities, and pitfalls presented to him by the Civil War and subsequently by New York City's Gilded Age political scene. What emerges is a picture of a likeable, hard-working man, who was ultimately undone by a series of financial setbacks and an unwished-for association with a bizarre grave-robbing scandal. This book takes the reader far beyond Patrick Henry Jones the Civil War brigadier general, placing his service in the broader context of a life filled with accomplishment and, ultimately, disappointment. Dunkelman's book is an exemplary work, demonstrating the historical dividends that the detailed biographical examination of Irish American figures such as Jones can bring." Damian Shiels, author of The Irish in the American Civil War

"Patrick Henry Jones was one of those Gilded Age men tested by battle, inspired by the notion of personal gain, and motivated to public service, quite well known during their lives but virtually unknown today. Mark Dunkelman's creatively researched biography is not only a cautionary tale about Gilded Age ambition, but a fine study of ethnicity, politics, and war." James Marten, author of America's Corporal: James Tanner in War and Peace

"Mark Dunkelman has written another valuable book that is one-third regimental history, one-third biography, and one-third ethno-social analysis. Patrick Henry Jones is one of those unique books that succeeds in examining the Civil War era within the greater context of international and American politics, society, and economics but does so in a delightful biographical narrative." Christian B. Keller, author of Chancellorsville and the Germans: Nativism, Ethnicity, and Civil War Memory
"A thoroughly researched narrative biography of a forgotten Irish-American Civil War veteran from New York whose political rise and fall under the spoils system reflected the Gilded Age and Jones's patronage by Horace Greeley and Reuben Fenton. This excellent study of complex ethnic politics and office-holding in an age of corruption, fortune-building, and immigration fills a gap and tells a marvelous story."
Robert C. Williams, author of Horace Greeley: Champion of American Freedom

"With engaging prose and thorough research, Mark Dunkelman tells the poignant story of a Civil War hero's rise and fall in Gilded-Age America. By tracing the full arc of Jones's life, Patrick Henry Jones rescues from obscurity a member of an important and long overlooked group of Americans: the mid-level officers who formed the backbone of the Union army and went on to positions of authority in government and politics in the postwar era."
Barnet Schecter, author of The Devil's Own Work: The Civil War Draft Riots and the Fight to Reconstruct America
"This superb biography is precisely what we have come to expect from its author. It is deeply researched and elegantly written. The narrative is all the more impressive because Jones left behind no significant collection of manuscripts. This book is the result of microfilm reels dutifully cranked and obscure leads painstakingly chased. Dunkelman has done his subject justice, all while augmenting our understanding of politics, ethnicity, and the seamy scandals of the Gilded Age." Brian Matthew Jordan, in The Civil War News
Thanks to friend Damian Shiels of County Cork, Ireland, for his review of the book on his weblog Irish in the American Civil War.
"Mark Dunkelman has done an admirable research effort in trying to piece together the varied life of this very interesting Irish American through public records and bits and pieces from the papers of Jones's contemporaries. Dunkelman has done a good job in finally giving Jones his due, countering his 'lapse into obscurity' both in Ireland and the United States, and he is to be commended for that." David Gleeson, in Civil War Book Review
"This book is a superb biography of a little-known Civil War general who although largely forgotten today, was a giant in his times. As always, Dunkelman has done a fantastic job mining long-forgotten archives to bring Jones back to life. The result is a readable and detailed biography of a forgotten warrior." Robert Grandchamp, in Blue & Gray
"Dunkelman does an admirable job of recovering the life of a man who rose from obscurity to become a prominent Democrat-turned-Republican politician. Along the way, the author convincingly argues that Jones's life illustrates both the promise and peril of the Gilded Age. . . . Dunkelman has succeeded in rescuing an important nineteenth-century hero and political figure from obscurity and at the same time has offered a compelling narrative of one man's journey through the twists and turns of the Gilded Age." Nancy Schurr, in the Journal of Southern History
"Jones's remarkable life can illuminate a great deal about the mid- to late nineteenth century. In this well-researched and well-crafted biography, Dunkelman provides the basic context of how Jones fit into various nineteenth-century groups. In doing so, the author demonstrates the complexities of contemporary society and the various hats individuals wore in different spheres . . . Dunkelman is most proficient at weaving a narrative that illuminates the life of a relatively obscure, but important, historical figure. He has adroitly mined the archives and articulates a biographical chronicle that is both interesting and informative. It will appeal to readers, particularly history buffs fascinated by the Civil War, Irish America, and political intrigue. For the professional historian, it is also a valuable piece of work that will need to be contextualized and analyzed to ascertain more profound findings." Bryan McGovern, in the Journal of American Ethnic History
"Just who was Patrick Henry Jones? The question is ably answered by historian Mark Dunkelman who has crafted a volume that not only tells us about this remarkable Irishman—now largely forgotten—but also helps us understand more about the opportunities, political favoritism, and spoils system rampant in late nineteenth century New York. Dunkelman provides a vivid portrayal of Jones . . . a celebrity and bon vivant, doing (and receiving) favors in the city for friends like Greeley and Sherman." Frank Naughton, in New York Irish History
To hear me talk about my book Patrick Henry Jones on Civil War Talk Radio, click here.
For information about the book, visit its page on the Louisiana State University Press Web site.
---
For a list of my books at Amazon.com, click here.
---
PLACES TO GO:
A Brief History of the 154th New York
Summaries of the Annual Reunions
Presentations on the 154th New York
Return to the Hardtack Regiment Homepage

Copyright © 1999-2022 Mark H. Dunkelman